Science for Kids: 28+ STEM Activities To Do at Home
Step-by-step instructions and materials lists for family-friendly science activities.
May 5, 2020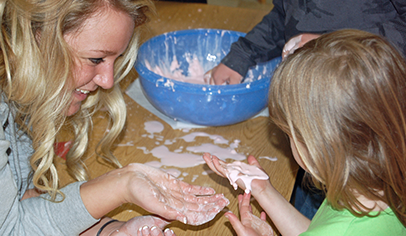 These easy-to-follow science activities for kids were put together for school-based Family Science Night events with support from UL, and they're now available for parents to download directly and use at home!
The 28 activities cover several scientific disciplines, including the physical science, engineering, and life sciences. Each activity includes a list of materials, step-by-step instructions, photographs, and a section to learn more about the concepts in that activity, plus a Science Investigator's Journal to record observations and results from the activity.
There are also two extended activities to do at home—codebreaking and geocaching—and a roundup of 10 STEM careers for kids to explore.
Click the links below to download, or scroll to the bottom to preview a full list of the activities.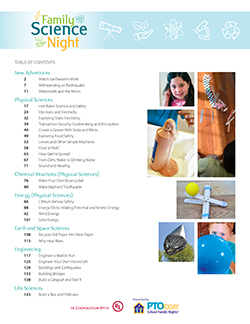 Science for Kids: All Activities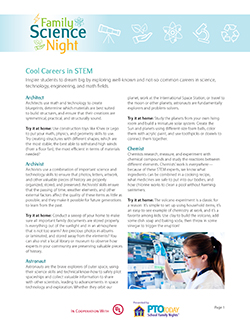 Cool Careers in STEM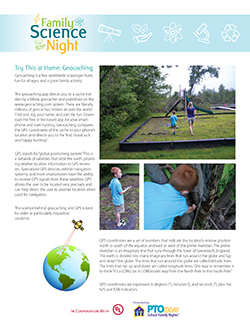 Geocaching Extended Activity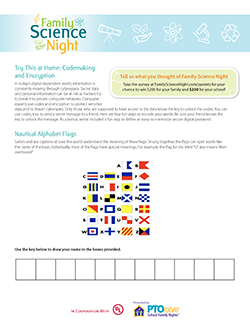 Codebreaking and Encryption Extended Activity
Science for Kids: Activities by Scientific Discipline
NEWEST ADVENTURES

Title

Complexity
To Set Up

Time To
Complete

Supplies & Materials

Special Notes

Good for Younger Children?

Make Your Own Anemometer (Energy)

Low

20 min

paper cups, straws, unsharpened pencil with eraser, pushpin, hole punch, colored tape, blob of clay, stopwatch (or stopwatch app), fan

Bake S'mores in a Solar Oven (Energy)

Medium

60 min

shoebox or pizza box, scissors, tape, white glue, wooden skewer, plastic wrap, black and white construction paper, aluminum foil, thermometer, graham crackers, milk chocolate square, marshmallow

Works best on a sunny, non-windy day

Harness the Power of Water (Energy)

Medium

40 min

2L soda bottle, empty thread spool, dental floss, wooden skewer, scissors, tape, ruler, water pitcher, stopwatch (or stopwatch app), table or stool, foil baking pan, small rocks

PHYSICAL SCIENCES

Title

Complexity
To Set Up

Time To
Complete

Supplies & Materials

Special Notes

Good for Younger Children?

Electrons and Electricity

Medium

15 min

D batteries, 9-volt battery, masking tape, flashlight, variety of conductors (wire, shoelace, etc.), penny, rubber band

Exploring Static Electricity

High

15 min

latex balloons, wool scarf, dryer sheets, foil, clear soda bottle, paper clip, note card, tack or clay, tape, scissors, pen, stopwatch, assorted materials

Codemaking and Encryption

Low

15 min

ink pad, paper, pencil, baby wipes,
flashlight, whistle

Create a Geyser With Soda and Mints

Medium

10 min

Mentos mint candies, three 8-oz. clear plastic bottles, magnifying glass, small rock, marble, 1/2L sugar-free soda per person, plastic wash bin, safety goggles

Can be messy; use goggles for safety

Yes

Levers and Other Simple Machines

High

15 min

13-gallon tote, heavy books, two 2"x4"x4ft boards, two PVC pipes 1"x2ft, assorted levers, masking tape, tape measure, stopwatch

Float or Not?

Low

10-15 min

clean fish tank, modeling clay, diet soda can, regular soda can, assorted objects,
two clear cups, two clear tennis ball cans, tissue paper

Yes

How Germs Spread

Low

5 min

glitter, hand lotion, paper towels, hand wipes, assorted objects, hand soap

Need easy access to a sink

Yes

From Dirty Water to Drinking Water

Medium

10 min

towels, clean fish tank or bucket, debris and dirt, ladle, six deli containers, assorted filters

Sound and Hearing

Medium

15 min

MP3 player, earbuds, headphones,
tape measure, noisemakers (whistle,
bike horn, etc.)

CHEMICAL REACTIONS (PHYSICAL SCIENCES)

Title

Complexity
To Set Up

Time To
Complete

Supplies & Materials

Special Notes

Good for Younger Children?

Low

15 min

borax, cornstarch, warm water, glue, food coloring, bowl of ice water, zip-top bags, paper cups, measuring spoons, stir sticks, marker, yardsticks, masking tape

Yes

Medium

10 min

hydrogen peroxide, liquid dish soap, yeast, warm water, food coloring, empty plastic bottle, small cup, measuring spoon, funnel

Can be messy; use goggles for safety

Yes

ENERGY (PHYSICAL SCIENCES)

Title

Complexity
To Set Up

Time To
Complete

Supplies & Materials

Special Notes

Good for Younger Children?

Lithium Battery Safety

Low

20 min

hot dog, lithium button cell battery,
knife, plate, disposable plastic glove, thermometer

Energy Sticks: Making Potential and Kinetic Energy

Low

10 min

jumbo craft sticks, book, yardstick

Good as a group-participation activity

Wind Energy

Low

15 min

paper, pins, beads, pencils w/erasers, scissors, hair dryer, tape measure, balloons, straws, monofilament, masking tape, extension cord

Be cautious about latex allergies

Yes

Solar Energy

Low

15 min

4"x4" cards (one black, one white), ice cubes, toothpicks, ruler, flashlight, prism, solar garden lights, large box with lid, paper, paper case box

Yes

EARTH AND SPACE SCIENCES

Title

Complexity
To Set Up

Time To
Complete

Supplies & Materials

Special Notes

Good for Younger Children?

Impact Craters and the Moon

Low

10 min

foil baking pan, flour, cocoa, marbles, wooden dowels, modeling clay, ruler

Replenish cocoa powder between students

Yes

Recycle Old Paper Into New Paper

Low

20 min

scrap paper, water, blender, three buckets plus three vats/tubs, old towels, sponges, old bed sheeting or T-shirts, wooden frame, mesh screening, staple gun

Why Heat Rises

High

15 min

trash can liner, hair dryer, cellophane tape, thread, scissors

LIFE SCIENCES

Title

Complexity
To Set Up

Time To
Complete

Supplies & Materials

Special Notes

Good for Younger Children?

Medium

20 min

2L soda bottle, 1/2L water bottle, soil, sand, ruler, scissors, dark paper, tape, trowel, water

Can get messy from sand and soil; observation is completed at home for up to two weeks

Build a Bee and Pollinate

Medium

15 min

egg cartons, wax paper, pipe cleaners, sharpened pencil, tape, black permanent marker, wire snippers, scissors, flowers (optional: powdered drink mix, paper cups, colored markers, glue)

Each egg carton makes two bees

Yes

ENGINEERING

Title

Complexity
To Set Up

Time To
Complete

Supplies & Materials

Special Notes

Good for Younger Children?

Withstanding an Earthquake

Medium

30 min

3-ring binder, ping pong or golf balls, rubber bands, ruler, masking tape, marker, scissors, tape measure, toothpicks, mini marshmallows

Shaker table can be set up in advance for younger children; works best with fresh marshmallows.

Yes

Engineer a Marble Run

Medium

15 min

marbles, foam tubing, masking tape, cups, yardstick, thin cardboard box, tape measure, stopwatch

Yes

Engineer Your Own Hovercraft

Low

10 min

balloons, CDs, bottle caps, hot glue, small disposable plates

Need very smooth tabletop or floor for best results

Yes

Building Bridges

Low

10 min

index cards, six blocks about 2" tall, about 50 pennies

Yes

Build a Catapult and Test It

Low

10 min

ruler, plastic spool, rubber bands, bottle caps, masking tape, 14 jumbo craft sticks,small foam or plastic balls, measuring tape