20 Educational YouTube Channels for Kids
Check out this list of YouTube channels your child will have so much fun watching, they won't realize they are learning—win!
June 21, 2022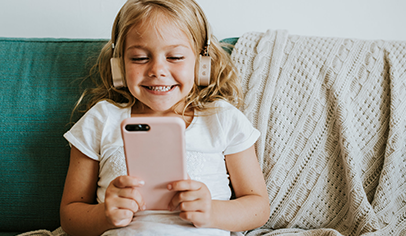 rawpixel/123rf
Summer is here, and that means more screen time—or at least begging for more screen time. While on devices, children are doing more than just playing games. Their "screen time" on their devices is much like our "screen time" when we were young. Instead of watching cartoons on cable TV like we did—and because they are more tech-savvy than ever—children are watching videos on YouTube.
While children are using these platforms, it's no secret that using streaming platforms instead of cable is growing across the board. YouTube is the internet's largest and most popular video sharing platform. Because of its size, it is easy to get lost in all of the videos and channels. It is even easier to let YouTube's algorithm automatically play your next video. So, while you thought you chose a great video for your child, a few videos later may not be what you intended.
This all seems overwhelming, but we've got you covered. We've compiled a list of educational YouTube channels your child will have so much fun watching, they won't even realize they are learning. It's a win-win!
Plus, if you set up a YouTube account for your child, you can share videos and channels from the YouTube app directly to your child's account. You can also use the "approved content only" setting, which keeps the YouTube algorithm at bay, and only let's your child watch videos, channels or collections that you've handpicked.
20 Educational YouTube Channels:
1. National Geographic Kids
"Nat Geo Kids" allows children to explore the world and their curiosity through weird, wild and wacky videos.
2. PBS Kids
Who hasn't heard of PBS Kids? A family-favorite, their YouTube channel showcases a huge inventory of educational shows. Plus, they offer live streams of shows and new episodes!
3. WordWorld
Words are the focus of this show and are literally the characters—WordFriends are animals whose bodies are made up of the letters that spell the word they are.
4. DoDo Kids
This YouTube channel is perfect for animal lovers. With a positive and uplifting focus, DoDo Kids features furry, funny, heartwarming, inspiring, exciting and playful animal stories. A new partnership with Sesame Street brings Elmo and Cookie Monster's own series on the channel, "Families for Furry Friends." New videos are posted weekly.
5. The Brain Scoop
Curiosity will be cured with this channel. With 200+ episodes, a variety of topics are explored, from fossils to dissection.
6. Sesame Street
The "original" preschool-age television series made its way to YouTube with its very own channel.
7. Storyline Online
Children can snuggle up for virtual story time using this channel. Imaginatively produced videos featuring celebrities reading children's books, this channel fosters a love of reading in children.
8. Little Baby Bum
From catchy originals to classic nursery rhymes, Little Baby Bun posts new stuff weekly.
9. ChuChu TV
This channel engages children through nursery rhymes and educational songs. ChuChu TV adds new content several times a week and is available in a variety of languages.
10. Super Simple Songs
Children can dance, learn and explore through popular songs and nursery rhymes with movement.
11. Cocomelon
Do you know JJ? Have you heard the catchy introduction on every Cocomelon show? It grabs everyone's attention, followed by entertaining and educational content.
12. Mother Goose Club
From sing-alongs and nursery rhymes to live-action animated content, this channel is fun and entertaining.
13. TED-Ed
Have you heard of TED Talks? TED-Ed is the "baby" of TED Talks, geared toward children with challenging riddles and a commitment to creating lessons worth sharing.
14. Cosmic Kids Yoga
Mindfulness, relaxation, and exercise: what could be better than that combination? All three of these in space!
15. Smithsonian Channel
The Smithsonian Channel is where "curiosity lives, inspiration strikes and wonders never cease." Kids can watch documentaries on a variety of topics. New content is added weekly.
16. Netflix Jr.
Characters from popular kid's Netflix shows are featured in short, engaging videos. New content is added weekly.
17. Houston Zoo
Have your children—or you—ever wondered what happens behind-the-scenes in a zoo? With this channel, you'll get your answer!
18. Crash Course Kids
Have a science-lover? Crash Course Kids explores all-things science, such as Earth, space, chemical reactions and more.
19. Free School
Free School is exactly what its title says: free school. Topics include famous art, classical music, children's literature and more, presented in a kid-accessible and enjoyable way.
20. SciShow Kids
The children's version of the original YouTube series SciShow, SciShow Kids' shows are structured around the Next Generation Science Standards curriculum—but it is not as boring as that may sound. With fun characters in a fort, they conduct experiments, talk to experts, and research new questions in the field of science.
Get your child's exact back‑to‑school supply list, right from their teacher.
Find it. Approve it. Have it delivered.