8 Spring Activities that help the Planet
Welcome back Spring with these Earth-friendly, green activities!
March 18, 2022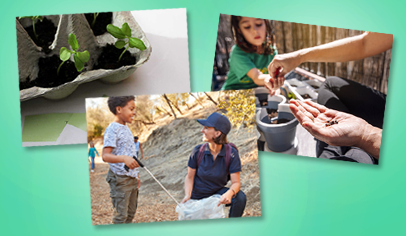 While everything is turning green for Spring, you can celebrate its arrival while going green, too! We've rounded up 8 activities to celebrate Spring while inspiring your children to care for the environment.
DIY Upcycled Potted Plants
Succulents are low-maintenance plants, some only needing a spritz of water once a month! Have your little ones build and decorate their pots and find a new home for them in your house. It's a great introduction to plant care and gives students a sense of newfound responsibility.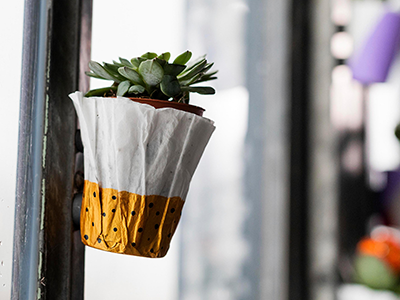 Egg Carton Greenhouse Project
Reduce, reuse, recycle! What better way to teach the importance of these values than using things you already have to grow a garden? Your children will love checking to see their plant's progress all spring long. What's more, this hands-on activity is a great exercise for cognitive development!
DIY Steppingstone
Let your children get creative by making steppingstones for your garden. These DIY steppingstones are a great way to create something unique for years to come. Even better, you can plant a bee and butterfly-friendly garden to place them in!
Recycled Bird Feeders
What does Spring sound like without birds? Welcome them back with these fun and easy recycled bird feeders. They will love the delicious treat, and your little ones will love watching them enjoy it.
Bottled Hanging Garden
April showers bring May flowers, and these bottled hanging gardens can bring those flowers inside or outside. These are not only beautiful, but they are easy to make, too! From designing the bottle and decorating it, to choosing what flower to plant inside and watching it grow, your child will have a blast.
Recycling
Collect your recyclables throughout the week with your child. Then, depending on what your neighborhood does, either take your items and dump them in your recycle bin at the curb or venture to the local recycling center and separate your items into the correct bins. Not only will your children learn the importance of recycling, but they will be excited to see what happens to those items.
Picking up Litter
Get out and enjoy the warm weather with a walk. While on your walk, with a bag and gloves, collect litter to be thrown away or recycled. Spring is the perfect time for this activity, as the summer vegetation has yet to bloom, making the litter easy to spot and a breeze to collect. Your children will love helping clean up the environment while also getting some exercise.
Planting Seeds
Go to the store and get some seeds to plant. You can plant vegetables in a garden or even a pot. If you'd rather plant flowers, pick your favorites and start a garden or decorate with some flower pots. Even more, you could plant wild flower seeds anywhere, which is both fun and easy, and the bees would be sure to thank you!
Get your child's exact back‑to‑school supply list, right from their teacher.
Find it. Approve it. Have it delivered.