Back to School 2023: Checklist for Parents
These back-to-school tips can help parents and kids be prepared, whatever the 2023-2024 school year may bring.
August 17, 2021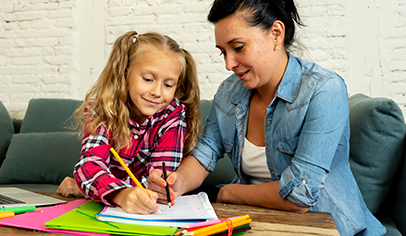 Sam Wordley/123RF
First Steps
Ensure a smooth start to the school year! Keep the beginning organizational steps simple.
✓ Make sure you know the start date and keep an eye out for any long weekends shortly after, like Labor Day weekend.
✓ Get familiar with any dress codes. Coming back after summer is tricky, so make sure your child has warm weather clothes they can wear to school until it starts getting cooler.
✓ Find your child's exact school supply list on TeacherLists and shop right on your phone. If you don't see your school's lists online, you can easily upload the list yourself and shop from national retailers.
Check Medical Requirements
Each school has its own medical requirements for each student. Be sure to call your doctor ASAP to snag a back-to-school check-up!
✓ Most districts will require flu shots; check whether your child will need one before going back.
✓ Make sure your child has all other required immunizations.
✓ Schedule a physical exam if needed to participate in school activities.
✓ Get your child's vision checked before school starts if he is due for an exam.
✓ Notify the principal's office, the school nurse, and your child's teachers about any health problems or medications.
Stock Up on Supplies
Getting your school supplies together is a rite of passage each year, whether in-store, curbside, or delivered to your home.
✓ Shop the summer back-to-school supply sales for deals on pencils, notebooks, looseleaf paper, and printer ink. Try to buy enough of these basics to last you through the year because they'll cost more midyear.
✓ Send them in with disinfectant wipes and hand sanitizer when you can. They're always a valued item, especially when flu season arrives.
✓ Along those lines, send your child with a small, refillable bottle of hand sanitizer in their lunch box so they'll have it nearby.
✓ Find a reusable water bottle for your child to take to school. Label the bottle clearly with your child's name in case they lose it at school.
✓ Take a quick home inventory and put still-usable supplies in a container, and throw out or recycle the rest. Once you know what you have, you can shop for what you need from your child's exact school supply list on TeacherLists.
Find Out About (and Plan for) Meals and Snacks
A healthy lunch is an important part of the school day!
✓ If you'll be packing lunches frequently, shop sales on lunch containers that can be cleaned and reused easily.
✓ Look for items that are easy for kids to open themselves to reduce the number of people touching an item.
✓ Spend some time brainstorming with your child about lunch options. Keep a list of mains (sandwiches, protein bars) and snacks, and allow them to mix and match.
Other Ways To Help Your Child Prepare
Parents want to minimize the anxiety many children might experience when returning to school. While a new school year is exciting, many students are nervous about a new teacher, making friends, and of course, academics.
✓ Discuss your child's feelings about starting school, and talk over any concerns they might have.
✓ Talk with your child about their daily school schedule.
✓ Have younger children memorize your home address and cell and work phone numbers.
✓ Check your child's progress on summer reading. Are they on track? Have they completed their other summer homework assignments?
✓ With your child most likely spending more time learning online, talk to them about online safety and being a good digital citizen.
✓Begin practicing your back-to-school routine before the school year starts
Get your child's exact back‑to‑school supply list, right from their teacher.
Find it. Approve it. Have it delivered.