Back to School (Back to Basics)
A lot of kids will have to relearn how to do a traditional school day. Get back to the basics for their sake and yours!
June 13, 2021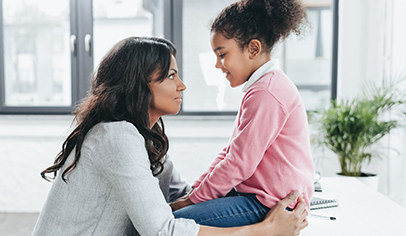 lightfieldstudios/123rf
In Spring 2020, a disruption to the academic year swept the country and schools shuttered overnight. It felt as if teachers and students were cast into a virtual oblivion.
Fast-forward through summer, fall, winter, and another spring, and many students remained home for remote learning. For millions of kids across the country, 2020-2021 was a school year marked by lax schedules, daytime television, and Groundhog Day on loop.
Thankfully, things are starting to look up, and schools are expected to return to in-person learning this fall — meaning early to bed and early to rise for all students! Kids will have to pivot again and relearn how to do a traditional school day. As monumental as that sounds, there are things parents can do this summer to help kids prepare for what's ahead.
Back on Track
Establish a schedule and stick to it. On weekdays, wake the kids up at the same time. When the weekend hits, don't let your kids fall asleep watching TV in bed. Set a bedtime that still allows for 8-9 hours of sleep per night. Kids need a lot more sleep than adults. Establish a schedule seven nights a week to ensure your kids get up for when it will really count!
Stay Alert
It's important for your child to be able to recognize the signs of illness so they can remain vigilant. Though flu, strep throat, and the common cold share some similarities, they're more different than alike. Knowing the symptoms will empower kids to take care of their bodies.
⋆ Check It Out

Our friends at Clorox have a great activity called The Usual Suspects for grades 3-5 that can easily be done at home. It tasks your child with researching an illness and creating a fun and informative BOLO (Be on the Look Out) poster. Try making one BOLO poster a week for a month right before school starts!
Mask Up
Assuming your school will require masks in the fall, get a jump on your child wearing one for longer stretches of time. You can introduce the mask at home and reward your child for every hour they keep it on.
Tip: Stock up on plenty of masks for the new school year. Look for masks that are made out of two layers of breathable fabric and sized for children. You should pack at least one extra mask in their backpack so invest in 10-15 to be safe.
Scrub-a-Dub
Returning to school means reintroducing personal hygiene habits that will protect your child and others. At home, brush up on "the vampire" (coughing or sneezing into the crook of the arm) and encourage your child to hum "Happy Birthday" two times (20 seconds) while washing their hands. This will ensure they spend the right amount of time doing the simplest but most effective thing to combat germs.
Just as soon as one school year ends, it's time to start thinking about the next. The summer months go by fast so make sure you get a plan together. And, remember, this will be a huge adjustment for you too. Give everyone plenty of time to grow accustomed to change.
Get your child's exact back‑to‑school supply list, right from their teacher.
Find it. Approve it. Have it delivered.