5 Easy Teacher Appreciation Ideas Parents Can Use When Schools Are Closed
Thanking school faculty members during Teacher Appreciation Week is a lot harder to do when parents, kids, and teachers are all at home. We've collected some simple ideas your family can use to show teachers how you feel, no matter how far away you are.
April 17, 2020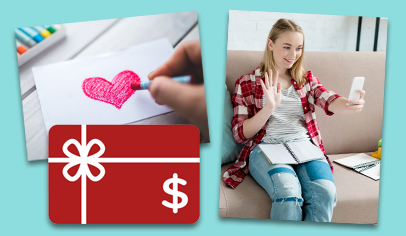 During Teacher Appreciation Week (the first full week of May each year), schools are usually full of good cheer, funny and touching classroom door decorations, and sweet indulgences for staff members. But because so many school districts are closed right now as a result of the novel coronavirus, parents who want to recognize their children's teachers will also need to look for novel ways to do that. Here are some simple ways to show you care from afar (plus, they're good for any time of year).
Gift card
Gift cards to favorite stores always go over well. They're pretty easy to coordinate through Venmo or other mobile payment services. Consider buying cards to local shops or restaurants, if they can be used at a later time, as a way to support community businesses.
Video message or slideshow
Put technology to good use to stay connected and share messages of appreciation at the same time. Create a short "thank you" video and send it via email, social media, or whatever app the teacher is using to communicate with parents and students. For older students, take it up a notch by making a slideshow or video of reasons they love their teachers.
E-card or drawing
It's probably been a while since you sent or received an email greeting card, but they're actually still a thing! Or make your own by having your child make a card or draw a picture on paper, then take a photo or scan it in to send it to the teacher. (Snail mail works, too.)
Handwritten letter
Have your students write a letter listing the reasons why they love their teacher, then mount the final version on a piece of colored card stock. Don't forget to take keep a copy or take a photo for yourself!
Movie night in
Give the teacher a gift card for a movie on a streaming service like Amazon, GooglePlay, iTunes, or Vudu.