How Does Your Paper Problem Stack Up?
Students bring home paper, lots of it. Find the right home solution that cuts down on clutter but keeps the memories.
May 13, 2021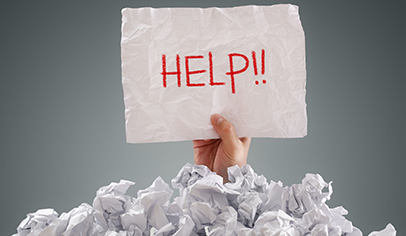 Brian Jackson/123RF
There are many telltale signs of school-age children at home, like the mélange of backpacks and shoes that rarely moves from inside the front door. But another big indicator is paper — and lots of it. According to Edutopia.org, a student accumulates around 833 pieces of paper every school year. And it feels like three-fourths of it is sent home.
Between art, graded homework, and projects, there is a big paper problem to solve.
It all starts when the contents of the backpack are unceremoniously emptied on the floor. All of that paper gets handed to mom who does a quick once-over, scrapping things like duplicate copies of the lunch menu. When the easy work is done, mom is still left with a big stack of question marks. Not wanting to make a (wrong) decision on the spot, everything lands on the counter. In its lifetime, this stack of paper will move several times around the house, growing in size with each passing day.
Eventually the shear volume of stuff forces a parent's hand to make a decision. But one misstep could spell disaster with memories lost forever.
So what's the solution? Well, it has to be somewhere between chucking everything with wild abandon and turning the home into a pack rat's paradise.
Be Intentional
Before you decide how to save your children's keepsakes, decide what to save. And start by simply telling yourself: you can't keep it all. Approach the process like you would a scrapbook. By the time school is over, you will have painted a picture of the academic year with broad strokes. So, when you thumb through a stack of paper, keep the highlight reel in mind. Here are a few ground rules to try:
Made for the Occasion
Keep one thing from each holiday and special school event. Did someone say turkey hands?
Turn a New Page
Little stapled books from school are a great one-stop shop. They really encapsulate a child's age and grade with their drawings and handwriting. Someday you'll be able to remind your son he once spelled it "elafant."
One Strike You're Out
Skip holding onto a single squiggly line or circle (maybe your child was just testing out the marker).
Pass or Fail
Pop quizzes, weekly exams, and midterms really add up. Consider tossing poor grades if you don't need to hold on to everything for academic reasons. Your future selves probably won't reminisce over a D+ in geometry. When in doubt, consult your teacher about tossing graded papers.
Go Digital
Now that you've decided what to keep, you need to figure out storage. The quickest way to extend the life of paper is with a home scanner.
Doxie Go SE on Amazon Prime – starting at $179.00
This compact, super portable scanner has a lot of parent-friendly features including a rechargeable battery that can scan up to 400 pages per charge. And, since it doesn't require a computer hookup, you can take it anywhere in the house. It stores 4,000 pages before needing to be synced. And Doxie's software can send scans to your email or apps like iCloud Drive.
With over 2,400 reviews and an average rating of 4.6 out of 5 stars, the Doxie Go SE is a scanner worth checking out if you decide to go paperless.
The mention of products in this article does not imply endorsement or sponsorship. Products are spotlighted based on consumer reviews and ratings.
Bin There, Done That
If you're going to keep your save pile, consider treating it like you would a family photo album. All of your children's artwork and papers are irreplaceable. So, when shopping for a solution, plan for the worst and hope for the best. Look for something that will protect your keepsakes against fire and flood in the home.
The brand DocSafe has a line of storage products that can withstand temperatures up to 2000°F plus they're water-resistant.
DocSafe Fireproof File Storage Organizer Box on Amazon Prime – $39.99
This organizer can accommodate either letter or legal sized paper. And, if you get hanging folders, one box could hold your child's entire time in elementary and even middle school, or divide the box among several children for a year. Sky's the limit!
Check out the rest of DocSafe's product line or peruse the many other fireproof and water-resistant solutions available on Amazon. Always remember that nothing is 100% infallible. But being proactive is what parents do best.
Signed, Sealed, Delivered
Sometimes digital is dull, and you want to be able to curl up on the couch and flip through memories one page at a time. A third option is keeping your student art as something tangible but cutting down on loose paper.
The service Plum Print turns children's artwork into a hardcover book with library quality binding. Pricing starts at 30 pieces, and any book can accommodate up to 350 individual pieces of art, photography, or other family treasures like grandma's apple pie recipe. And, if you've ever said to yourself, "I'd love to see this drawing on a dog bed," the Books & Beyond section has you covered.
Finished books ship free, and all artwork can be returned for a nominal fee.
Whether you decide to store things in the cloud, in a box, or between the covers of a book, the most important thing to do is turn your paper problem into lasting memories. Every day is fleeting when children are young. So that seemingly unimportant piece of paper could turn into a snapshot in time.
It's never too late to start tackling the paper problem. Better now than never! Tomorrow means a brand new slew of papers to add to the stack.
Get your child's exact back‑to‑school supply list, right from their teacher.
Find it. Approve it. Have it delivered.