Parenting during the Pandemic: which habits to keep
Reaping the rewards of the pandemic? Find out which pandemic habits parents are choosing to keep.
January 17, 2022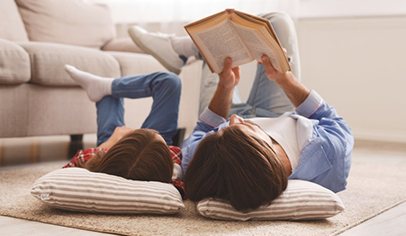 milkos/123RF
An unlikely question: what do parenting and the pandemic have in common? A likely answer: they both bring challenges, but they also bear rewards. While the latter might not seem as obvious in the pandemic, our resilience has led us to these rewards.
The pandemic hit, and it hit hard. Although it hit hard and quick, it forced us to slow down. Our lives changed, and while things slowly get back to normal, some things will not be changing. When considering what habits to keep, leaving behind old ones, parents were eager to share the things they plan to continue. We compiled them into a short list:
1. Enjoying quality time
Parents were granted the opportunity to spend more time with their children when the pandemic was new and unknown. Not only did they get to spend more time with their children, but they spent that time at home, sheltered from the rest of the world. What emerged was quality time. Parents got time that they may never have been given if it was not for the pandemic, and that is one thing they are not giving up. While they may not have as much time, they are valuing that quality time over the quantity of time. They are making every minute count with their children and pushing the "little things" to the back burner. Parents are keeping the habit of slowing down.
2. Communicating with loved ones
Communication came in volumes during the pandemic. We all learned to better communicate and the importance of communication. The pandemic did not only upend our lives, but the lives of children. Communicating was essential to help children cope with all the changes, and parents have continued to uphold this habit.
3. Establishing and maintaining routines
Schools closed, among other things, and normal routines stopped. New routines had to be quickly established. Parents had to juggle new duties, including virtual school. The importance of routines was showcased and continues to be sustained.
4. Cultivating relationships
Relationships between parents and their children are always strong, but the pandemic allowed those relationships to grow even more. Beyond this obvious relationship building, parents and teachers also built their relationships throughout the pandemic. They came to appreciate one another and be a better team. It opened that line of communication between the two fundamental aspects of a child's life, beyond the traditional means of parent-teacher communication.
Whether these habits are similar to the ones you have formed throughout the pandemic or different, here's to reaping the benefits of an otherwise negative situation, pushing forward, and keeping healthy and rewarding habits the pandemic helped to cultivate while ditching the old ones.
Get your child's exact back‑to‑school supply list, right from their teacher.
Find it. Approve it. Have it delivered.