Science Fun for Kids: Watch Earthworms Work
Make a wormery and watch how earthworms live and work.
March 18, 2019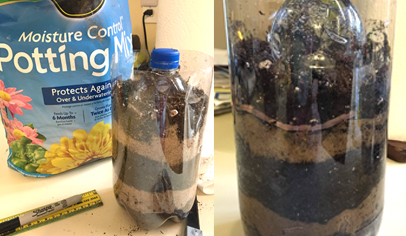 In this Science Fun activity, kids learn how earthworms move and eat (and help plants grow).
Earthworms play an essential role in our ecosystem thanks to how they move through the soil and what they eat, breaking down food and other organic matter into nutrients that plants can use. In this activity, kids make a wormery—a worm habitat—that allows them to observe firsthand how these simple but amazing creatures work!
Worms may not have arms or legs, but that doesn't mean they aren't great movers. They have short, bristly hairs called setae. To move, a worm stretches itself out and then extends its setae in the front to anchor itself. Then it brings its back end forward and makes itself short.
Where can you get earthworms for this fun activity?
Check a local tackle/bait shop or big-box store.
Buy them online.
Gently pick up worms that come to the surface when it's raining.
Moisten an area of your yard and cover it with wood or cardboard; come back the next day and dig carefully to catch the worms.
The tunnels that the worms make in the dirt allow water and nutrients to get down to the tree roots. Earthworms do such a great job breaking down organic matter that some people even add worms to their compost bins!
After about a week of observations, return the contents of your wormery (including the earthworms) to your backyard or to another damp, shaded dirt area. The worms will thank you!
Download the free Science Fun: Watch Earthworms Work PDF or check out the rest of the science activities.
This activity is part of PTO Today's Family Science Night kit, a free program that helps PTO and PTA leaders plan a night of hands-on learning and discovery about science at school. The free Family Science Night toolkit includes step-by-step planning guidelines, promotional tools, take-homes, and 20-plus STEM projects for kids. Bring the Family Science Night program to your school.
Get your child's exact back‑to‑school supply list, right from their teacher.
Find it. Approve it. Have it delivered.