Summer Adventures to Try at Home
Sometimes adventure is closer than you think.
June 18, 2021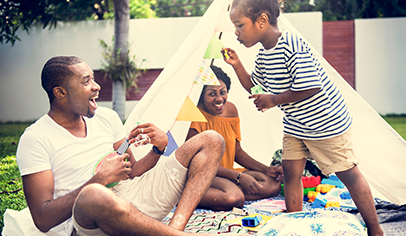 rawpixel/123rf
Go on Safari
The zoo is fun, but unless it's a quick 30-minute trip, you'll likely spend too much time driving, parking, and negotiating your way out of trinkets at the gift shop. Instead of the hassle, consider taking a local safari around the neighborhood. Depending on where you live, there could be all sorts of animals to spot — like rabbits, deer, squirrels, and large birds, plus cats and dogs.
Make a checklist with fun facts about each animal, or pull out all the stops with a BINGO game. You might even see something new.
Tip: Check your local department of wildlife for information on the critters in your area.
Halloween in July
You've probably heard about "Christmas in July" but what about Halloween? Get a sizable watermelon and, just like with a pumpkin, carve a silly jack-o'-lantern. Then turn the flesh into eyeballs (aka melon balls) with whipped topping and blueberries.
For other devilish delights, visit Hello, Yummy.
Build a Fort
Fess up — you have a bunch of empty boxes somewhere, don't you? We all do. It's called the "cardboard cache", and it's probably hiding in plain sight in your garage. Instead of going to waste, turn those boxes into a wonderland for play and imagination. Whether you cut a single door into a box or construct something more elaborate, the kids will love it.
Here are 25 epic cardboard forts to aspire to.
Sleep Under the Stars
"Glamping" is all the rage right now. If you've ever seen pictures, it's practically camping in your living room. Score one for parents! That's something we've been doing for years.
Break out the tent and sleeping bags and set up in the living room. Add ambiance with battery-operated lanterns, string lights, and potted plants. And, for extra pizzazz, stick glow in the dark stars to the ceiling. Tell a spooky story around the (supervised) fireplace and voila! You've got glamping indoors.
Take inspiration from these eight indoor adventurers.
Freeze!
Remember as a kid when your only choice was between a red and blue popsicle? Not a flavor per se, just a color? Well, luckily, frozen treats have come a long way. There's a ton of variety at the store, but they're also fun to make at home.
Start by getting the essentials: a popsicle mold (this one is made from food grade silicone) and popsicle sticks and bags.
Find recipes online or dream up your own – something as simple as fruit juice with chunks of real fruit. One mold usually holds six popsicles, so mix it up for all the chefs at home.
Popsicles are light years ahead of Red No. 3. They can be healthy while giving your family a frozen treat on a hot summer day!
Take the plunge with these 50 Best Healthy Popsicle Recipes For Kids.
Get your child's exact back‑to‑school supply list, right from their teacher.
Find it. Approve it. Have it delivered.