Teacher Appreciation Week: The Do's and Don'ts
Check out these tips for how to, and how not to, thank your child's teacher.
April 19, 2022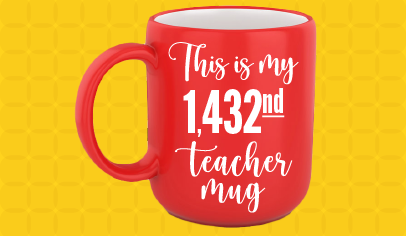 Mark your calendars for May 8-12th, 2023, it's Teacher Appreciation Week! It's the perfect time to show your child's teacher your gratitude for everything they do, especially as the school year starts to wind down. We've rounded up some tips for how to (and how not to) thank your child's teacher for Teacher Appreciation Week this year.
The Don'ts
Mug Shot
Maybe it's those funny little sayings we can't resist, or we just assume teachers drink a lot of coffee. Either way, they're mugged-out. Walk into any teachers' lounge and you'll see mugs spilling out of cabinets and into drying racks. There are mugs holding pens, pencils, paintbrushes, you name it. So, when in doubt, shelve the mug idea.
Finger Lickin'
Your crowd-pleasing double chocolate brownies are probably as good as they sound, but this isn't what teachers are craving. Food sharing concerns aside, you never know someone else's allergies, dietary restrictions, or lifestyles, and they won't know every ingredient you used. So let your kids lick the spoon and leave the brownies at home.
Getting a Little Too Personal
Some gifts might be absolutely lovely but, coming from a parent, they scream awkward. Things like bath bombs, scented lotion, and lip balm are best left to the very special person in a teacher's life. If it's appropriate for Valentine's Day, it probably isn't a great teacher gift.
The Do's
Handy Dandy
Teachers start the school year off with a back-to-school supply list, with anything not donated by families coming out of the teacher's pocket. So the more supplies the merrier. You can even get fancy by building a supplies gift basket that's 100% utilitarian. Fill it with whatever your teacher needs (refer to their wish list), get a deep basket that can serve as classroom storage, and slap on a cute bow. A+ present!
The Right Kind of Personal
This is a great time to pull out the stationary and let a teacher know their hard work goes noticed. Share your gratitude, a quick story, or how your child has blossomed over the last year. Remember to date the card and include your child's name. Some of the best gifts don't come from a store. And you certainly can't put a price tag on memories.
Arts and Crafty
It might come as a surprise that teachers treasure homemade gifts as much as parents, but it is true. Anything made from the heart is more valuable than most gifts, and teachers love them. Every project they spend time making with your child in school gets sent home for you, so why not return the favor and send something into school for them?
With Love, From Students
This can take a few different forms. You can have your child write a note to their teacher expressing how much they've enjoyed their time in class, or you can get together with other parents to put something together as a group effort, like a photo album featuring each student with a thank you note.
Tried and True
Sure, gift cards aren't the most personal gifts on Earth, but they never go unappreciated. Gift cards to stores like Target let teachers use them at their will, or you could go the "treat yourself" route with a gift card to a popular local restaurant.
Teacher appreciation gifts don't have to be pricey or flashy. They're just a nice way to tell someone special you're thinking of them. So, don't overthink it, just consider what you're gifting and give from the heart. And remember, when in doubt, no more mugs.
Gifts and gestures for teachers don't have to be big, fancy, or expensive–just from the heart, and something that truly represents the time your child shared with their teacher!
Get your child's exact back‑to‑school supply list, right from their teacher.
Find it. Approve it. Have it delivered.