Virtual Field Trips to Keep Learning Alive This Summer
Take a trip all over the world—even to space—this summer with these virtual field trips!
April 19, 2022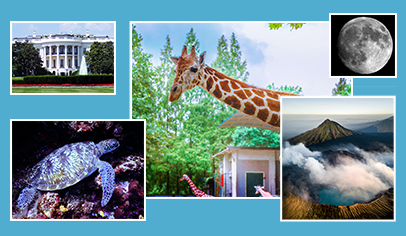 School's almost out for the summer! Kids need to be kids. They need summer and the endless fun that comes with it, from swimming and campfires to parks and slides. However, there is one slide you don't want them getting on this summer: the learning slide.
When students are not engaging in learning activities over summer, they could lose almost two months of skills. This learning slide has been proven through multiple studies. Keeping the learning alive will set them up for continued success the following year.
We know most kids won't be too excited about learning during summer, though, which is why we've got you covered! Take your kids on virtual field trips this summer for different learning experiences everyone will enjoy:
Space—Blast off to outer space.
1. Take a tour at NASA 
2. Visit Mars 
3. Explore a planetarium
4. Play with slime in space
Zoo and Aquarium—Swim in a shark tank or swing with the monkeys.
5. Visit the animals at the San Diego Zoo
6. Swim in the tanks at Baltimore's National Aquarium
Museums—Visit the dinosaurs and see what else you can find.
7. Explore the Smithsonian National Museum of Natural History
8. Visit the Metropolitan Museum of Art
9. Enjoy the exhibits at the Boston Children's Museum
Factories—Make some M&Ms or see what happens when you recycle.
10. Visit the M&M Factory
11. Find out what happens to your recyclables
History—Get up close to Mount Rushmore or explore the hidden rooms at the White House.
12. Meet Mount Rushmore
13. Explore the White House
14. Visit Colonial Williamsburg
Nature and farming—Explore a cave, watch a geyser, or go above a volcano.
15. Milk a cow
16. Pick a fruit and see how it ends up at the grocery store
17. Watch a geyser Yellowstone National Park
18. Fly above a volcano in Hawaii Webcams
Another City or Country—fly overseas!
19. Explore a different city
20. Visit royalty at the Buckingham Palace
21. See the Great Wall of China
22. Explore the Son Doong Cave in Vietnam
Best overall virtual field trip source: Interactive Virtual Field Trips | Discovery Education
Get your child's exact back‑to‑school supply list, right from their teacher.
Find it. Approve it. Have it delivered.