For Districts, Parent Groups, and Teachers
TeacherLists makes it easy to get kids the school supplies they need
People want to help, particularly right now, but many don't know where to start. Back to school 2020 presents a meaningful opportunity to help right within your communities. After widespread school closures this spring, it's the most anticipated back-to-school season in recent memory—maybe ever! At the same time, many communities have experienced hardships and are looking for all the help they can get.
With TeacherLists, you can set up Donation Supply Lists to share with parents and others in your community so they can donate much-needed school supplies.
When classrooms are well-stocked with the school supplies students need, teachers and kids can hit the ground running and have a great start to the new school year.
Perfect for districts, school parent groups, and teachers, TeacherLists Donation Supply Lists are a great way to help meet your school's supply needs. You can set up a donation list, share it with parents and others in the community, and ask them to purchase needed items. They can purchase from major retailers such as Target, Amazon, Walmart, and more, from their phone or in stores, and donate the supplies right to your school. It's easy to set up your account and create your Donation Supply List.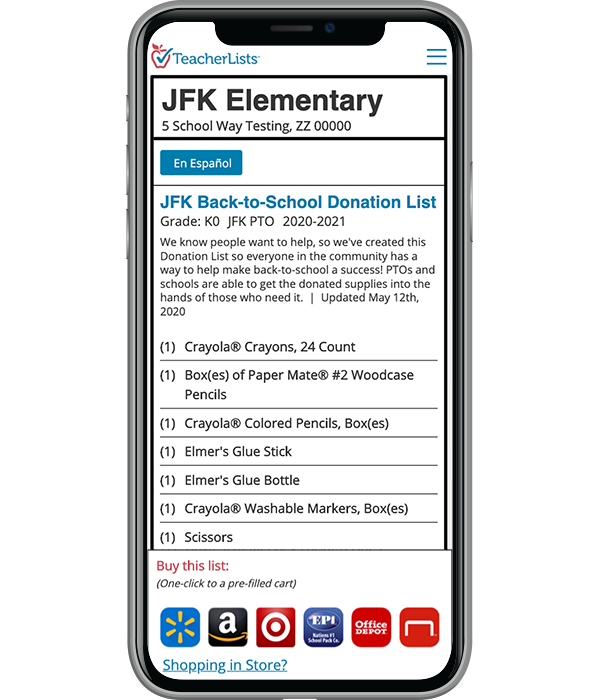 How It Works
1. Set up your list
• Create an account (or login if you already have an account)
• Click "create list" and select "Student School Supply List"
• Build your list from scratch or use one of our templates
• Enter your list details
List name: Use "Donation Supply List" so parents can find it quickly
Teacher name: Use your parent group name or the name of the person organizing the donation drive
School name: Select your school
Number of classrooms: Enter 1
Grade levels: Select K0
Welcome message: Explain the purpose of the donation list and where to ship supplies.
If you already have a donation list, you can use the powerloader and upload your lists in almost any format.
Click here for more detailed step-by-step instructions, including sample welcome messages and tips on where to ship supplies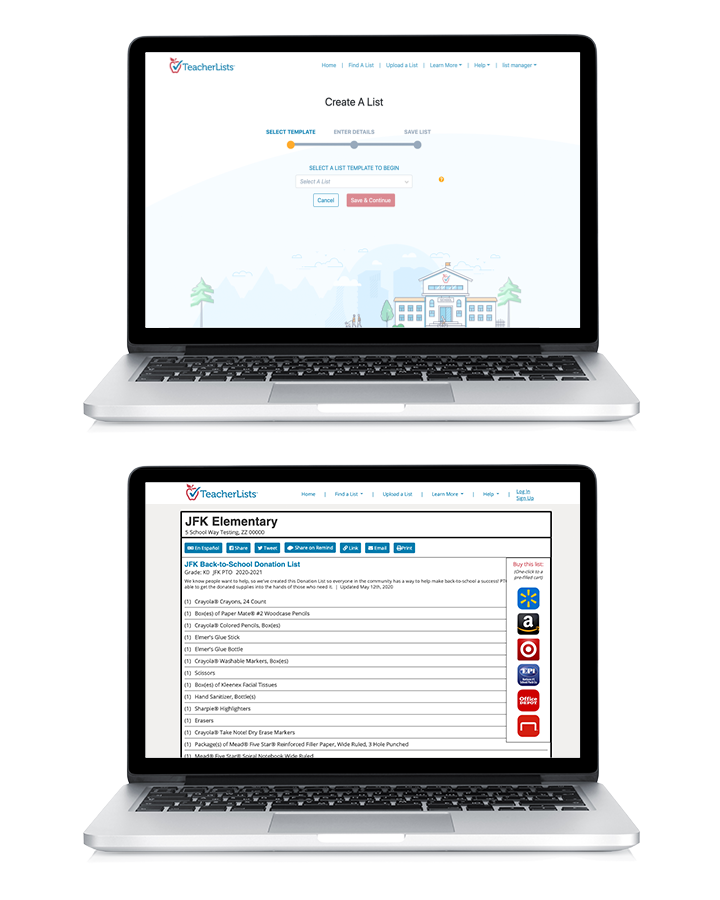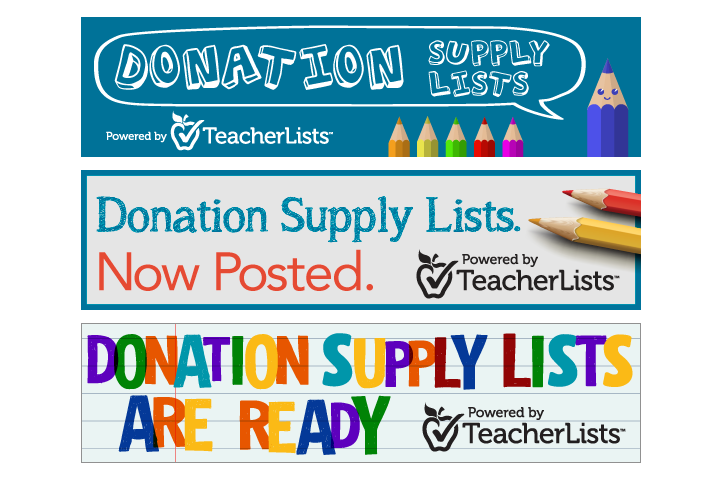 2. Share your list
Donation supply lists are super easy to share on your district, school, and parent group websites, newsletters, and social media or via email. We provide email templates, social graphics, flyers, and website banner links for sharing across all communication channels.
3. Donors shop your list
They can spend what they want
Our sample supply list includes lots of items you'd see on most schools' supply lists; it's a good starting point for ideas on what to include. Let donors know they can give as few or as many items as they wish; we often recommend a $20-25 spend as a good average or starting point.
One-click "touchless" shopping
Our online shopping feature offers a safe, touchless way for parents and others to donate items without ever having to enter a store. Donors can purchase a few items or opt to donate the whole list by selecting a prefilled cart from a retail partner, such as Amazon, Target, Walmart, Staples, and more, and check out with one click.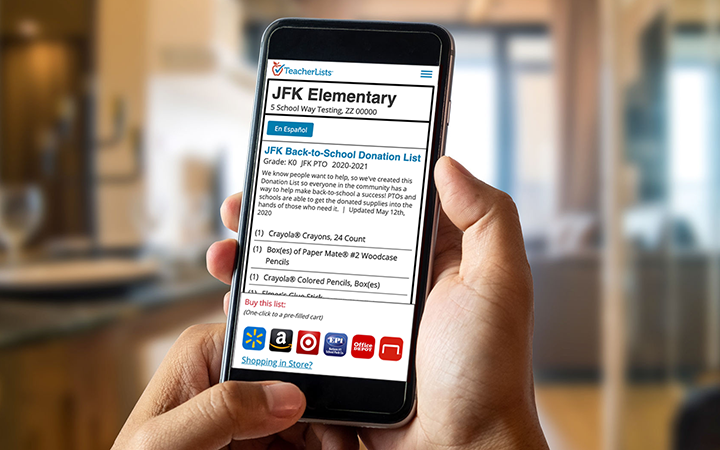 Some tips to keep in mind
If you don't work for the school or district (for instance, you're a parent group leader), let the school know you're creating a Donation Supply List. They'll appreciate the heads-up, and they'll know to look for donations sent to the school.
Promote your list to local businesses! Businesses are some of schools' biggest supporters, and many will welcome the chance to contribute.
Contact your local media and let them know about the initiative, and ask them to share so others in the community can help.