Win books for your classroom (and an Amazon gift card, too)!
Post your school supply lists on TeacherLists and you could win a $400 Scholastic gift card to purchase a classroom library at the grade level of your choice, PLUS a $100 Amazon gift card!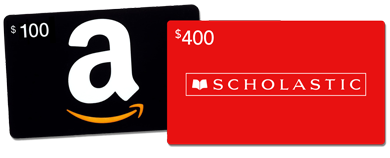 Here's How To Enter:
Update or upload your whole school's 2022-2023 supply lists (four lists or more) by June 30, 2022. TeacherLists will randomly select 10 winners to receive a Scholastic classroom library and Amazon gift card. Already have lists on TeacherLists? Just login to update last year's lists with the new school year.
Add brands to help kids in need! When you add our sponsored brands to your lists, we'll automatically make a donation to the Kids In Need Foundation to help under-resourced students get the supplies they need most.
Upload Your Lists Create Your Lists
How TeacherLists works
TeacherLists is the easy way to create, share, and shop school supply lists from any device—at no cost.
Upload
Upload your list in any format, or create a list in seconds. It's completely free.
Share
Quickly share a link to your list in all your communications to parents.
Shop
Parents can click to purchase their list via select retailers like Walmart, Target, and Amazon.