Post your back-to-school supply list on TeacherLists and share it with parents by Aug 22 and you could win one of three Happy Healthy Classroom Kits filled with must-have supplies (enough for your entire classroom)!
We might not know what the first day will look like this year (or exactly when it will happen), but one thing we do know is that classroom cleanliness will be taken to a whole new level for back-to-school 2020. To help you feel prepared, we're giving away three Happy Healthy Classroom Kits packed with enough supplies for your entire class—stuff like hand sanitizer, antibacterial hand wipes, a printable handwashing song that'll make kids actually want to wash their hands, and other must-have classroom staples. Enter to win one of three kits when you post and share your back-to-school supply list with parents!
Here's how to enter:
1. Upload your back-to-school supply lists for the 2020-2021 school year (it's 100% free!). Already have a list? Simply login to view and update it for the new school year.
2. Share your supply lists with parents by Aug. 22. You can share on social media, via email, by posting a link on your school website, or however you communicate with parents. (Check out our ready-made banner links and GIFs!)
3. We'll notify you if you're a winner, and your prize will be mailed to your school this fall!
Bonus: Get an extra entry when you share your list on social media using the hashtag #FirstDayReady.
What you could win:
Three grand prize winners will receive a Happy Healthy Classroom Kit valued at $200. Each kit is filled with back-to-school products for 23 students from brands like Method, Crayola, Nice 'N Clean, Kleenex, Paper Mate, and more.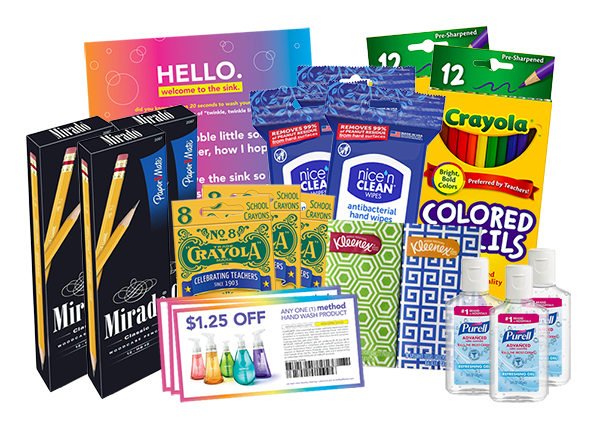 What Does It Mean To Share Your Supply Lists?
Sharing your lists simply means you're making them visible to parents so they can shop for everything their child needs for going back to school. And we've created some really cool tools to make list-sharing a breeze. You can email your lists to parents, post them on your Facebook or Twitter channels, link to them on your school website, or message them out via Remind and other EdTech portals with just the click of a button.
You'll see a blue button for each share method at the top of your list's page. Once you share your lists, parents can purchase items with just one click through prefilled shopping carts at leading retailers like Amazon, Target, Walmart, Staples, and more!