Most schools modify their school supply lists each year to adapt to changes in teaching strategies, lesson plans, or other factors. And we also know that 20 percent of teachers change classrooms, grades, or schools every year.
But what if you're one of those teachers who doesn't have a change to your list? Good news: TeacherLists' "mark evergreen" feature makes it simple to keep your same list from year to year. Evergreen is just another way to say "always relevant"—call it a forever list. Simply mark your list evergreen and every year we'll automatically update the school year for this list. This means you don't have to log in each year to update the school year on your list!
Here's how to do just that: Once you log in and you're on your dashboard, just scroll down to your list, click "actions," and  select "mark evergreen." That's it!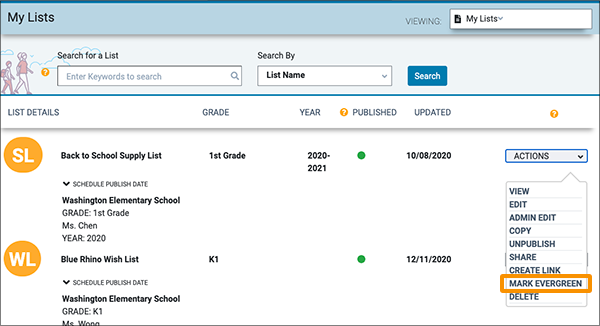 If there's a change and you need to add a few items that hadn't been there before (or remove some), it's just as simple. Just select"edit" from the "actions" dropdown. Once you're done, just click "save" at the bottom of the page—this is your new evergreen list. Your list is now updated and immediately available for parents to shop, on TeacherLists.com and our retail partner sites.

Ready to get started? Log in to update your lists now!
Need more help? Submit your lists to our Concierge Service, or call us at 800-644-3561 ext. 6.