Back-to-School Shopping: Save Time and Money
Tips to help you survive shopping for back to school without breaking the bank.
August 1, 2018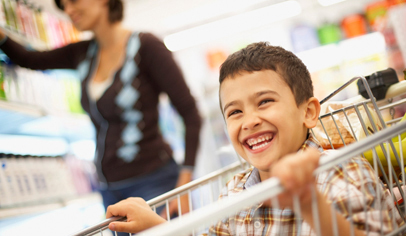 It might sound like fun, but once you get about halfway through the back-to-school shopping process, everyone's exhausted and ready to quit. Having a good game plan can help you save time and money and make the experience much more enjoyable for you and your kids. Below are just a few tips to help you survive, and maybe even enjoy, shopping for back to school!
Plan Ahead
Even before you leave the house, there are things you can do to make your back-to-school shopping easier.
Plan for more than one shopping trip. Trying to get everything you need at one time will leave your head spinning. Do a little at a time so you can be strategic about what you buy and when. Another alternative is to order your list of school supplies from home with TeacherLists.com. You can search for your school list ahead of time, select exactly what you need, then pick it up in the store or have it delivered to you. This saves time and can save you from spending extra money on impulse buys in the store.
Inventory what you already have. This goes for clothes, school supplies, and organizational items. Go through closets and old supplies to see what's really needed and what you already have that can be used or worn again.
Determine a realistic budget. Setting limitations and making sure your kids understand those limitations can help you avoid arguments at the store. It's also a great way to teach your kids about money management and budgeting.
Look for sales and deals. It can be overwhelming to track all the back-to-school sales and discounts, but honing in on a time when most stores offer deals on school supplies and clothing can you save you money. Many states offer a sales tax holiday during the summer, and many larger stores schedule big sales to coincide with this holiday.
Be in the Know
They say knowledge is power. When it comes to back-to-school shopping, knowledge is money in your pocket and more time to celebrate summer, too.
Get to know the school rules. It's helpful to talk to the teacher or administrator to understand expectations. Find out what technology is allowed and needed, what the dress code is, and what supplies each student needs for the first day of school. This will help you focus your shopping list and avoid spending money on frivolous items.
Talk to your kids about wants vs. needs. Once you have a budget in place, have a family conversation about priorities. Look through catalogs or store websites before heading out so you have a plan for where you want to spend more money and which items you can save on.
Become a follower and join the club. If you have a favorite brand or retailer, follow them on social media or join their email list. Brands will often offer exclusive savings to their followers or "friends." This can mean lots of great savings on things you already intended to buy.
Organize Your Home, Too
When thinking about back-to-school time, everyone thinks of what's needed in school. But a big part of getting ready for school is getting organized at home.
Spend a few dollars on home organizational supplies. Depending on your kids and their needs you might want to set up a homework station, buy plastic bins or file folders for saving artwork and projects, or get paper trays to organize incoming announcements and outgoing permission forms. This is a great time of year to snag deals on items that will help you stay organized and on top of school communications throughout the school year.
Get the kitchen ready. This is often overlooked when talking about back-to-school shopping, but many families spend a good amount of time and money preparing for back-to-school meals. Whether your child is 5 or 18, plays a sport or sings in the choir, going back to school means going back to a fairly busy routine. You'll find deals on lunch containers, snack foods, and drinks alongside the school supply sales at most stores. Grab those deals, then set up your prep station at home so that everything you need on a daily basis is easy to find and use. It makes packing lunches and snacks every day a much easier process.
When all is said and done, the next thing on your to do list is to celebrate. You did it! Give yourself a pat on the back for surviving back-to-school shopping. Only 365 more days till we do it all again!
Get your child's exact back‑to‑school supply list, right from their teacher.
Find it. Approve it. Have it delivered.