8 Tips for Back-to-School Organization
Back-to-school organization tips to help ease the transition from lazy summer days to hectic school mornings.
July 20, 2018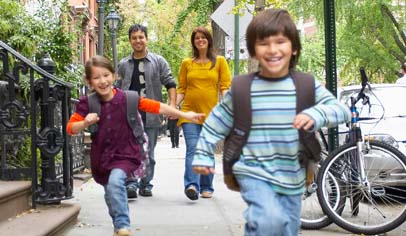 It's that time of year. Time to trade in our flip-flops, late summer nights, and lazy vacation days for on-the-go coffee cups, chaotic mornings, and evenings spent in the car driving from one activity to another. The transition can be tough. We're here to help with a few back-to-school organization tips.
Get started early.
Don't wait until the last minute to figure out what night the kids have soccer, when back-to-school night is, or what supplies the kids need for art class. Around a month before the first day, begin thinking about what's to come. That might mean enrolling them in activities or buying new school uniforms. Make a mental or written checklist of what you need or want to get done over the next few weeks. There's no need to rush it; a little preplanning goes a long way.
Gather information.
Information is liberating, so try to figure out what you need to know before the first day of school to make this a smooth transition. You might tour the school, read up on the district curriculum, meet the teacher, find out about the dress code, ask how the school regularly communicates with parents, get details on the resources available for your kids, or make plans to meet other parents who have children in the same class.
Mark your calendar.
Most schools post a calendar on their website. Review the calendar and put all the important dates on your family's calendar. Include back-to-school nights, special holidays, and your children's activities. Having this information readily available will save you time when trying to make family plans or schedule other activities.
Figure out the schedule.
Make sure you and your kids know when and where they're going and how they'll get there. Discuss carpools, buses, after-school plans, and play dates. Having a back-to-school organization plan will put you and your kids at ease.
Stock up.
Get out those checklists from school and sports and figure out exactly what supplies, gear, clothes, and equipment your kids need to kick off the fall season. Then plan a few trips to the store for back-to-school shopping so you don't get burned out trying to finish it all in one day. Don't forget to stock up on healthy snacks and lunch foods. Having everything organized in one place will save you time and energy when the busy schedule kicks in.
Set the stage for success.
Prepare your home for the flurry of papers that come in at the start of a new school year and the projects and homework that follow. With an organized place for school announcements, backpacks, and other materials, you'll save time throughout the year. Depending on your kids' ages, it's also key to set up a desk stocked with the supplies they'll need for homework and projects. Designate a spot and fill it with everyday homework supplies and even a computer or printer. Have it ready to go for the start of school so you spend less time running around looking for things each night and more time feeling confident and prepared.
Get into a routine.
It's hard to start a new (stricter) routine before you absolutely have to, but it really helps to practice the back-to-school routine so that the kids have a chance to ease back into it. Start bedtime a bit earlier, set up time for your kids to do more reading, or even schedule activities that require you to get up and out of the house early.
Talk to your kids.
Check in with your kids about how they're feeling. They might be nervous about the new year in general, their teacher, or their friendships. Communicating with them can make a big difference in how they feel when they head back to school. Be sure that you remain positive, too. If you're dreading the early mornings or busy days, the kids will sense your stress. Try to focus on all the positives and they will, too, even if it means giving them a big smile as you put away your flip-flops and rev up the carpool engine.
These tips will help keep the whole family on track as the summer comes to an end. Having a good back-to-school organization plan will make the transition easier and leave everyone feeling prepared for the new school year.
Get your child's exact back‑to‑school supply list, right from their teacher.
Find it. Approve it. Have it delivered.