Created specifically for school staff
Easy upload:
Uploading and updating lists is a snap. We accept most formats such as jpg, pdf, doc, etc.
Easy to share:
Lists are super easy to share on your school website, parent portal, social media, or via email.
Save time and money:
Save reams of paper and hours at the photocopier because lists no longer need to be printed and distributed.
Save hours on the phone:
Let parents know when their school supply lists will be available online—or even better, suggest they sign up to be notified when your lists are posted. Your school staff will save hours fielding phone calls and returning voice mails from parents asking for the lists.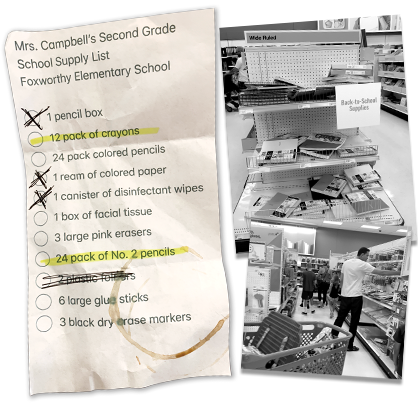 Convenient for families
Instant notification:
Parents can easily sign up to be notified as soon as their lists are posted.
Easy to shop:
Parents find and shop their exact school supply lists when and where it's most convenient.
Shop online:
Super easy one-click shopping at major retailers like Amazon, Walmart, Target, and more! Shopping carts are prefilled with the exact list items. Simply select a retailer and check out with one click!
Shop in store:
Lists are instantly available on parents' phones and are checkable as they move through the store—or they can print a list right from our site.
Parents love it:
No more traveling to multiple stores only to find crowded aisles and empty shelves. Supplies can be delivered right to the door or picked up in store. Your parents will thank you!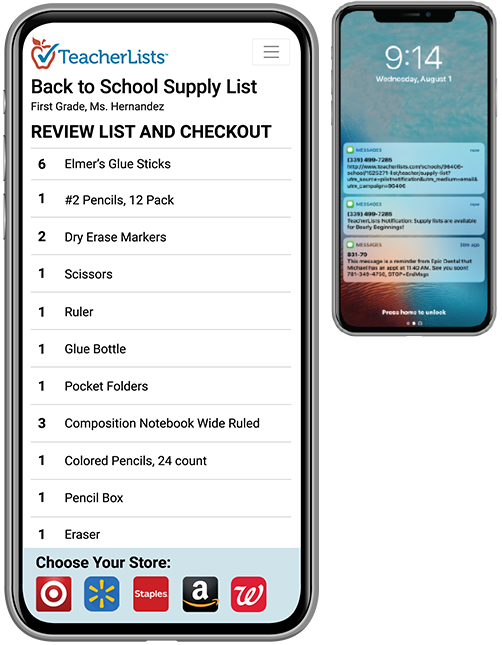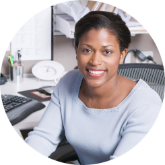 "TeacherLists has made the supply list process easier for everyone, especially the office staff."
- Tovah Kunkle, Secretary at Hebrew Academy Community School in Margate, FL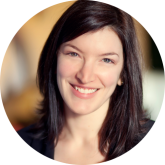 "TeacherLists is one of the easiest and best things that our school ever did."
- Eileen Grove, Sequoia Pathway Academy in Maricopa, AZ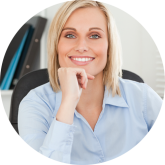 "This is where technology is headed."
- Pam Seeger, Principal at Cypress School of the Arts in Hesperia, CA