Antonio Guillem/123RF
Using TeacherLists supply lists along with teacher rewards programs for back-to-schools supplies at favorite retailers will earn cash and discounts for schools and teachers—and who couldn't use more of that right now?
When teachers or school staff create their supply lists on TeacherLists, there's a section right on the list where they can share information about retailer rewards programs and instructions for parents to buy items and make sure the school or teacher gets credit for the purchase. TeacherLists also has instructions for integrating lists with EdTech platforms, such as Smore, RevTrak, and MySchoolBucks.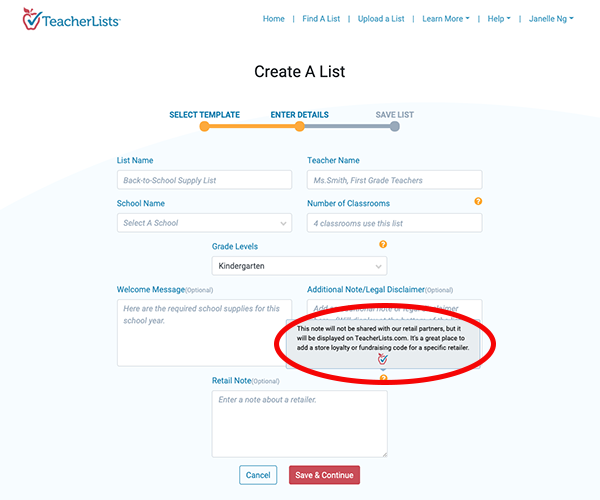 A simple way for teachers to share supply list links is to add them to their class and school websites where parents can easily find them. When parents use the link to shop their child's exact list, schools and teachers benefit.
Here are some nuts and bolts ways for teachers and parents to earn rewards at several top national retailers.
Staples Rewards and Staples Classroom Rewards
Teachers who join the Staples Rewards program earn up to 5% back in rewards in store and 2% back in rewards when they shop online for eligible items. Other benefits of the program include free delivery and no minimum purchase for a limited time only, and $2 back for each recycled ink cartridge. Teachers can encourage parents to earn Staples Rewards by adding a comment and instructions, including a rewards number, directly on their supply lists on TeacherLists.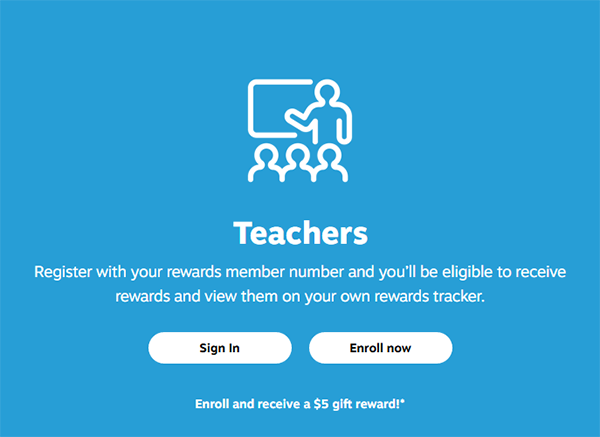 Staples has a Classroom Rewards program that gives recipient teachers extra savings when parents shop for school supplies online and in U.S. stores. To be eligible, teachers have to be a Rewards member and must enroll as a recipient teacher in the Classroom Rewards program.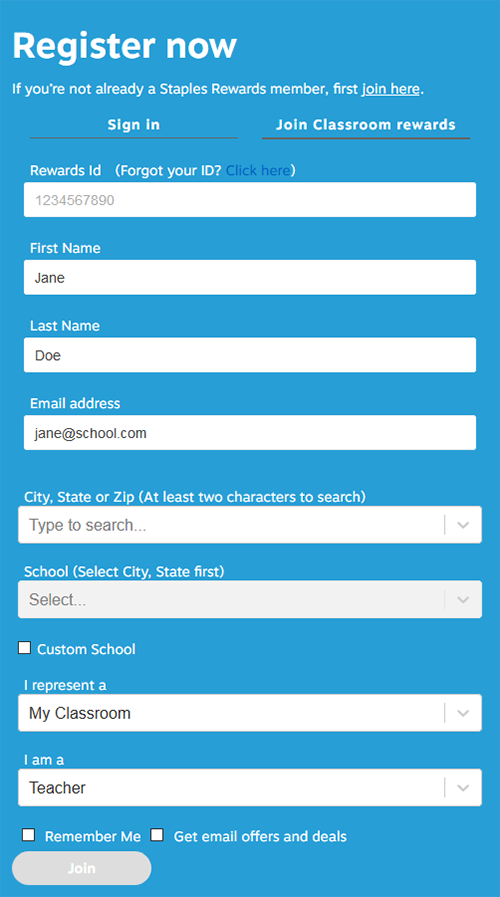 Staples gives newly enrolled teachers a one-time $5 gift reward, which is paid out in their first quarterly statement. For most of the year, teachers earn 5% back in rewards, up to $250 per quarter, when parents submit receipts for qualifying purchases. During the summer months, Staples lets enrolled teachers earn 20% back in rewards on eligible items, up to $250 per quarter, which is ideal when parents buy their child's exact school supply list on TeacherLists.com.
Here's what to tell parents about selecting a teacher recipient:
Visit staples.com/classroomrewards.
Select "Add a Receipt" in the parent section.
Select the teacher they'd like to support.
Scan or type in the Staples receipt or order number and purchase amount. The order number can be found on the packing slip, delivery confirmation, or Staples.com.
Hit "submit."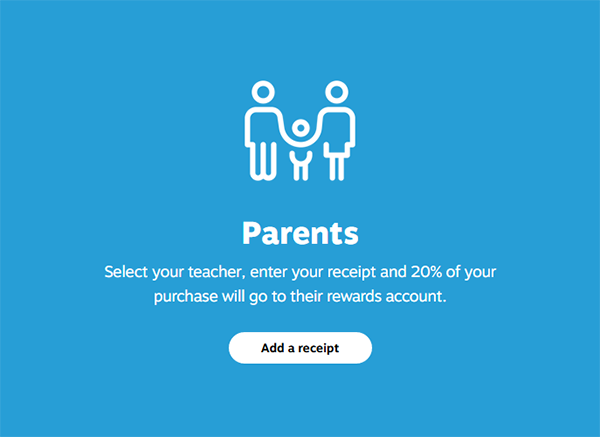 Parents who are Rewards members still get to collect rewards for themselves when they enter a receipt for a teacher. Parents can also reward multiple teachers; however, they can't split reward earnings from a single receipt—if they have multiple receipts, each receipt they submit can only go toward one teacher.
Office Depot Office Max Rewards
Teachers can use the Office Depot Office Max rewards program to get discounts on items they need for their classroom. The program offers 2% back in rewards on qualifying items, $2 back on recycled ink and toner cartridges, special member pricing and bonus rewards, instant redemption of rewards at checkout, dedicated support, and even rewards for product reviews.
How to earn with an Office Depot Office Max rewards program:
Click the "Join Now" button to create an account.
Add a phone number and then check off "Teacher" when asked to select membership type (to receive custom offers).
The rewards dashboard shows all available rewards, which can be redeemed instantly at checkout.
From the supply list, choose the Office Depot button to purchase items.
If not still signed in, follow the prompt to sign into the Office Depot account on the top right task bar.
Choose items or click to add the exact list to the cart.
If buying in stores, access Rewards account at checkout with a phone number.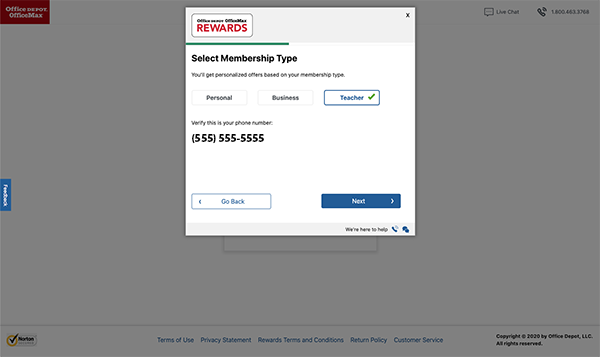 For parents, Office Depot Office Max also offers a Give Back to Schools program. When parents purchase qualifying school supplies and provide the school's ID at checkout both in stores and online, the designated school receives 5% back in credits for free supplies, up to $3,000 per year. Participating teachers should be sure to provide their school's ID directly on their supply list.
How parents can use the Give Back to Schools program:
Open the classroom supply list on TeacherLists.com.
Locate the school ID at the top of the supply list in "retail notes" section.
Choose the Office Depot button to purchase items.
Complete purchase, then enter the school's ID on the "Thank You Confirmation" page.
If shopping in store, provide the school's name or ID to the associate at checkout.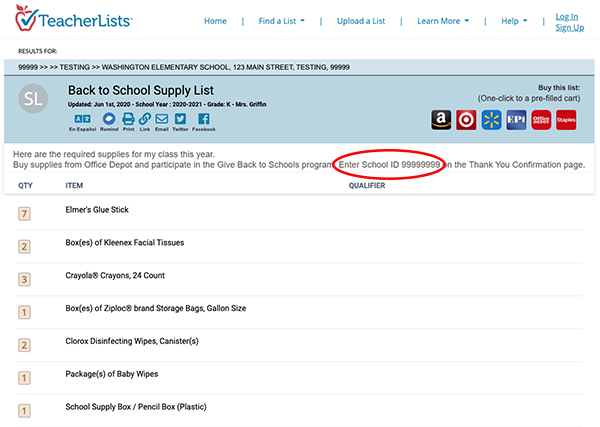 Amazon Rewards Visa Signature Card
Amazon offers a credit card that teachers can use to earn rewards everywhere they shop. It offers 3% back on items from Amazon and Whole Foods, 2% back at restaurants, gas stations, and drugstores, and 1% back on all other purchases. Link the card to your Amazon account and use it to pay for classroom supplies.
Target Circle Loyalty Program
The Target Circle program rewards Target account holders with 1% earnings when they shop at Target, plus deals, special offers, and 5% off on their birthday. (Bonus: Target makes donations to select nonprofits through its Community Giving Program, and Target Circle members can cast votes for participating nonprofits.)
For More Information
Check out these other articles for more ways to earn extra cash:
Passive Fundraising Ideas (PTOtoday.com)