How To Create and Share Your District's School Supply Lists
We've gathered all the resources you need to easily create and share your district's supply lists with your schools and parents. Bookmark this page so you can find these resources quickly when you need them.
Best practices for managing your district's supply lists
Flyers to spread the word to schools and parents
Upload your district's supply lists
Share your district's supply lists
Best practices for managing your district's supply lists
Download our best practices flyer that takes you through posting and sharing your supply lists in five easy steps!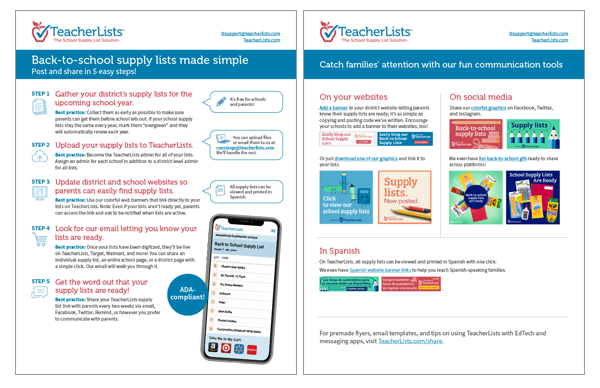 Flyers to share with schools and parents
Flyer for schools—edit this flyer to let schools in your district know you're using TeacherLists and how they can post their supply lists on our site to share with parents.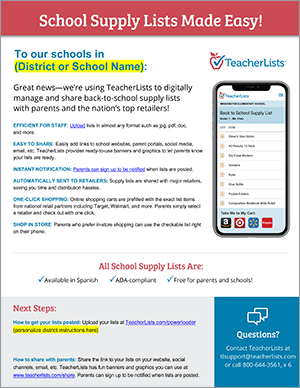 Flyer for parents—customize this flyer with your district and school information and let parents know how to find and shop their school supply lists easily and conveniently.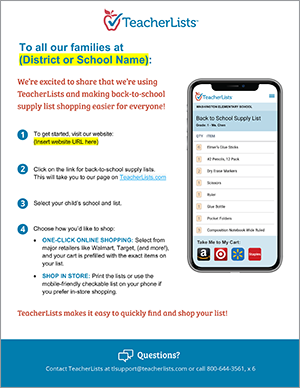 Upload your district's supply lists
Upload your lists, or use our concierge service and send your lists to us!
Share your district's supply lists
Once your lists are posted, it's time to share them with families so they can shop for supplies with just one click. Lists can be shared on your website, via social media, email, or through your district's edtech portal. See which method works best for your district: TeacherLists.com/share
Website banners
Choose one of our ready-made banners to add to your school website—or grab the TeacherLists logo and create your own!













Social media graphics
Share your lists with families on Facebook or Twitter using our downloadable social media graphics.


Other Resources
Back-to-School Communication Tips: Simple, Streamlined, Sensational
Communication with schools and parents is important all year, but at back-to-school time it sets the tone for the whole year.
Make Your School District Website a Back-to-School Communication Hub
This article provides tips, tricks, and proven ways to make your district website the go-to information hub for parents at back-to-school time.
How TeacherLists Works With Sales of Prepackaged School Supplies
Learn how TeacherLists can support your existing school supply kit fundraiser and benefit your district's staff and parents.
See more blog posts for school districts.
Have questions?
We'd be happy to answer them! Contact us at 800-644-3561, ext. 6, or send us an email.